Recording at 'The Undercroft'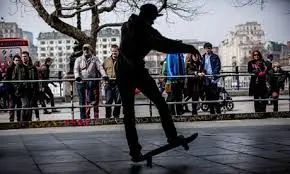 Skate Park South Bank Centre, London
Capturing a recording of an iconic spot that has been a home to street culture for over 40 years. A space that has inspired and encouraged creativity to a huge amount of people from all backgrounds and welcomed them into the London community. There is lot's of talk and debate surrounding the relocation of the skateboard mecca "The Undercroft" as the Owners of the Southbank Centre plan to revamp the River Thames art centre.
Due to the site's transformation the BMX and skatecrews are likely to find them selves short of a home.
The £43m project will include refurbishment of the 1960s building housing the Queen Elizabeth Hall and the Hayward Gallery but harshly not the skate park..
Due to the history and the importance of this site as a skate mecca, we thought it deserved to be to recorded and archived.
Gorm (pro skater) on View From The Undercroft "The noise that resonated around the brutalist architecture of the Undercroft will always remain with me, as does a sense of speed. Folk would whizz by over the hip and up the wall ride and back up the small banks in the long demolished area. The sound is irreplacable even to this day. I made friends there for life, picked up the sense of anarchy, seen pure creativity…All of these memories need to be preserved".